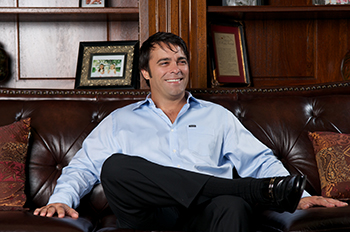 The people in the Austin Hispanic community have a significant history of creating positive change, whether it's as advocates for social causes, as political activists, as educational reformers, as artists and musicians, as successful business owners or as community leaders.
In 2011, the Austin History Center featured an exhibit of Mexican American trailblazers who have been paving the way since the early 1900s for younger Latinos.
Yet up until recently, we have not heard much about Latinos in philanthropy, particularly here in Austin.  But there is a rising group of philanthropic leaders, such as Michael Torres with Worldwide Maniac Foundation, who are giving in new and innovative ways.
Michael Torres is equal parts creative genius and skilled entrepreneur. Shortly after the 9/11 attacks, he was asked to support the United States, British and Australian governments in designing system architectures, and he later became an adviser to Interpol on International Data Sharing. He grew his prior company CSIdentity to profitability within three years. Currently, he is president and CEO of GreenWorld Restoration, building sustainable housing and communities in areas that have been stricken by disaster.
For Torres, the journey to philanthropy was a spiritual transformation. "I began going inward to understand more about myself and what my purpose was." As he reflected on his experience in corporate management and as an entrepreneur, it became apparent that a lot of the skills he'd developed were preparing him to do something bigger. "Once I heard what that was," he says, "I aggressively went after it." He discovered that there was something more important beyond obtaining balance with one's self – that is, obtaining balance with one's self, connected to a greater social and environmental level balance.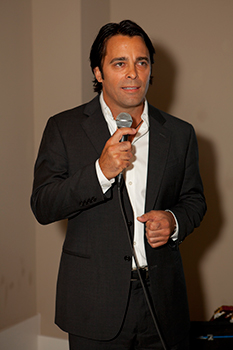 Since his revelation in 2005, Torres began focusing on a new way of building. Beyond constructing homes, GreenWorld Restoration designs and develops sustainable communities. Through this approach, they are able to help create a community that is in balance with the land ecologically, as well as with the people economically. It's through this sustainable model, Torres says, that they are able to "lift the land and the people up."
Torres began his social entrepreneurial focus on Haiti because of its extreme poverty, devastating circumstances and heartfelt people.  Today, three years after the 2010 earthquake, approximately 1/2  million people are still living in tents or temporary shelters, looking for a better way to live but with little hope in sight.  "If we as humanity are not successful in Haiti , what bigger challenge must we face in order to understand," he says.
After the devastating Central Texas fires of summer 2011, Torres is also preparing to turn his attention to Bastrop, "We are at a point in time where we have an opportunity to examine the ways in which we rebuild so that we reduce the risk of having to rebuild again ," he explains. "It's ok for us to reexamine what we do and how we do it; there is a great deal of opportunity and profits that can come from this re-examination.
Right now, Torres is not so focused on changing the lives of mainstream Americans just yet.  A sustainable way of living hasn't yet reached a point of entering Geoffrey A. Moore's early majority segment of the consumer adoption curve. Torres' approach is to focus on sustainable solutions for Governments and Large Corporations but be on the look-out, in time consumer solutions will be coming.
GreenWorld Restoration's construction materials and sustainable homes are built with the capability for add-ons for solar energy, waterless septic system and passive cooling, and they are designed to withstand earthquakes and hurricanes.
But in the same way that building solutions need to be environmentally and socially sustainable, philanthropy also has an opportunity to be more sustainable. "By the combining the for profit engine of a socially conscious corporation with the "teach a man to fish" engine of a foundation, all things are possible," says Torres.
In addition to giving new homeowners the tools and resources they need to thrive, Torres also makes sure that he has the financial resources he needs to continue doing what he does. GreenWorld Restoration allocates up to 30 percent of its profits to "Pay-it-Back" to the communities they serve and "Pay-it-Forward" to communities affected by natural disasters that they have yet to serve.
For more information visit: greenworldrestoration.com and worldwidemaniac.com